Tweet
In a landmark 16-2 vote today, the NCAA Division I Board of Directors voted to give the Power Five Conferences (the 65 schools of the ACC, Big 12, Big Ten, PAC-12, and SEC) more autonomy and the ability to make their own decisions over certain aspects of the collegiate model.[i] These conferences will now be able to initiate legislative changes of their own, which could start as soon as October 1 to get into the legislative cycle for April voting.
This new structure will allow the Power 5 Conference schools the ability to vote on what resources can permissibly be used to benefit student-athletes and student-athlete health and welfare. One of the biggest changes is that student-athletes will begin to have more of a say, with three student-athlete representatives from each conference being a part of the new voting delegation. These 15 votes will bring the Power Five Conference contingent to 80 votes. This proposal will additionally add new voices to the Division I Board of Directors, including more presidents/chancellors, a student-athlete, a faculty athletics representative, an athletic director, and a senior woman administrator.  The newly designed Council, a body that will make rules for all Division I members, will also add voices, including two student-athlete positions, two for faculty, and four for commissioners.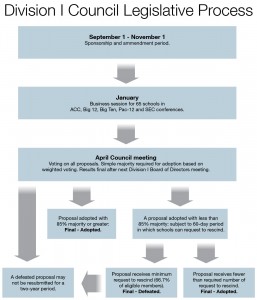 This legislative process is easy enough to follow, and illustrated in the figure to the right.   Currently, areas that expect to fall within Power Five autonomy include full cost-of-attendance, four-year scholarship guarantees, agent restrictions and unrelated career pursuits (i.e., acting, singing, art, etc.), and allowances for families to attend postseason competitions. Nothing involving transfer regulations are included yet; however, the Power Five Conferences are calling for change within two years, and will vote to take on transfer regulation autonomy if changes are not made. In addition, any rules concerning postseason tournaments, scholarship limits, signing day, and rules of the game (as in the actual game, like pass interference) will stay out from under the umbrella of Power Five autonomy.
The proposal is not fully adopted yet, there is still the 60-day review period where at least 75 schools outside of the Power Five Conferences would have to vote against. This is highly unlikely to happen due to the possible threat of the high-resource schools splitting from Division I and further isolating the remaining teams. If adopted, Power Five legislation could be adopted as early as next year, in time for the 15-16 academic year and season. While this is a step in the right direction for the NCAA, it will be hard to gauge how the change really affects college athletics until the first round of autonomous legislation is enacted next year. 
---
[i] This lovely 45-page document provides a more thorough description of the new governance structure. http://www.ncaa.org/sites/default/files/DI%20Steering%20Commitee%20on%20Gov%20Proposed%20Model%2007%2018%2014%204.pdf