Tweet
Before the 2010 NFL Draft, Jaguars fans were clamoring for the team to draft Tim Tebow. Once he became a free agent fans wanted the team to sign him.  One fan went so far as to purchase an advertisement on a prominently placed billboard in the heart of Jacksonville.
If the Jaguars brought Tebow onboard there likely would have been no difference in the team's on-field performance – although Tebow has won more playoff games than Jacksonville has played in since he entered the League. For an NFL team that struggles to remain relevant in its home market, building a quality team is essential.  However, when the NFL lowers the required percentage of tickets sold to avoid a television blackout in the local market from 100% to 85% and the team still needs to cover large sections of the seating bowl with tarps, you know there is a problem.
Adding Tim Tebow to their roster may not have helped put a better product on the field, but it certainly would have had an impact at the ticket office. This would have given Jacksonville a buzz about football not experienced since Florida and Georgia played in the last official "World's Largest Outdoor Cocktail Party" in 2006.
Fast-forward to the 2014 NFL Draft, where two teams with similar on-field struggles as the Jaguars understood the impact fan interest in a player can have on the bottom line.  When the Cleveland Browns selected Johnny Manziel in the 1st round they undoubtedly expected to bring in a player that would have an impact on the field.  It is nonetheless clear they were aware of their fan base's interest in selecting Johnny Football.  In the week since drafting Manziel, the Browns have reportedly sold over 2,300 season tickets. Despite what Browns owner Jimmy Haslam may believe, the homeless are not responsible for that surge in ticket sales.
Just a point of caution to Browns fans getting caught up in the Manziel fervor: if you are promised money back or reduced prices on future tickets if NFL defenses snap Johnny Football in two, or the team disappoints – which let's be honest is bound to happen – you may be getting a deal that is too good to be true.
The Rams may have outsmarted 31 other NFL teams and struck gold with their 7th round selection of Michael Sam – the only openly gay player ever selected in the NFL draft, and come rookie mini-camp the only openly gay player to ever step onto a NFL practice field.  By drafting Sam in the 7th round the Rams by definition made a low-risk high-reward business decision (even if the Rams weren't motivated by such a thought process).  If Sam is unable to contribute athletically at the NFL level then he is no different than the majority of the other 7th round selections who are unlikely to make a 53 man NFL roster this season.  But the interest generated by the Rams drafting him is evident in the TV ratings.  This year produced the highest TV rating for the final rounds of the NFL Draft ever. All because of Michael Sam.  America is watching, and America is buying.
Jersey sales are a good indication of the whims and interests of the NFL's vast fan base.  Johnny Manziel leads all NFL rookies in jersey sales and Michael Sam is second.  Let me repeat that – out of all rookies a 7th round pick is second in jersey sales.  Per NFL spokesperson Joanna Hunter, "This is unprecedented for a Day 3 pick, let alone a seventh round pick, to crack the top five rookies sold following Draft weekend."
I fully expect fan interest regarding Rams training camp and preseason to be at an all-time high.  Almost everybody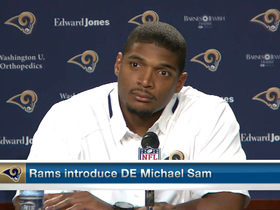 will be rooting for Michael Sam to make the Rams roster, and if he does there will likely be a corresponding increase in Rams ticket sales. If the enthusiasm and interest in Manziel and Sam within a week after their entry into the NFL continues, then fans are likely to continue buying their jerseys. If the Browns and Rams can use these players to sell tickets, then these same fans are likely to buy Manziel and Sam jerseys.  Jerseys bought at the stadium or at an individual Team Store are not subject to revenue sharing like those purchased at the online NFL Shop.  The more fans flock to NFL stadiums to support individual players the more likely they are to buy that player's jersey.  If they play their cards right, the Browns and Rams can turn drafting Manziel and Sam from mainly a football decision into a business success.
The revamped rookie wage scale implemented under the current NFL collective bargaining agreement allows business incentives to influence draft choices. When first round draft picks were walking away with signing bonuses in the tens of millions of dollars this would not have been possible. The financial impact of a rookie would have done little to offset their contractual demands.  But things have changed. Theoretically, if the average price of the 2,300 season tickets the Browns have sold since drafting Manziel is $1,000 then the financial impact of drafting him is approximately $2.3 million. This amounts to more than 25% of the approximate rookie contract Manziel will sign covering his first four years in the League.  Perhaps in the near future teams will not only commission a study on the analytics of potential draft picks but their economic impact as well.
The NFL is a copycat League. From year to year teams often replicate the personnel and schemes from championship clubs.   Nine defensive backs with press coverage ability were drafted in the first round this year, and the success of the Seattle Seahawks defense was certainly a major factor. I am not suggesting that teams throw caution to the wind and draft players regardless of their draft value, but if two players are similarly rated then business concerns should play in the War Room.  At the end of the day NFL owners are businessmen and aside from bringing home the Lombardi Trophy, their purpose is to generate revenue. If Manziel and Sam impact their teams' bottom lines as well as produce even marginally on the field, you can be sure that other NFL teams will follow the path started by the Browns and Rams.