It was widely reported on Thursday morning, October 16, 2014, that Jana Weckerly, the former exotic dancer who sued Jerry Jones for sexual assault, had settled her lawsuit with Jones, the Dallas Cowboys, and Jones's attorney (the "Defendants"). As the day wore on, details emerged which suggested that the case had been dismissed by Dallas County District Judge Dale Tillery, and that Weckerly would not receive any money.
Weckerly's attorney, Thomas Bowers, told the press he and Weckerly "don't contest the judgment entered by the court. And neither Jerry Jones or the Cowboys organization has paid us any money."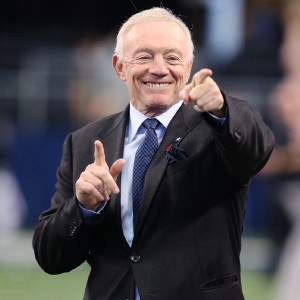 Levi McCathern, the attorney who represented Jones and the Cowboys before he himself was sued for conspiracy to keep Weckerly quiet,  said that he and the other defendants "are pleased with the Court's Judgment against Ms. Weckerly….Ms. Weckerly's allegations are false. This case is over."
The Judgment signed by Judge Tillery dismissed Weckerly's claims, barred any future claims arising out of the same facts, and ordered that Weckerly "take nothing." But what's most interesting about the Judgment is that it is an agreed judgment, meaning that Weckerly's attorney signed it and agreed to allow the case to be dismissed. Plaintiff attorneys normally sign agreed judgments when there has been a settlement, and dismissal of the case is secondary to the settlement. But signing an agreed judgment dismissing your client's case only a month after you filed it in the absence of settlement? That's less common.
A hearing on the Defendants' motion to dismiss Plaintiff's claims was scheduled for that same day, October 16. However, in an effort to peacefully resolve the case, Judge Tillery ordered the parties to mediate by October 15 in a Mediation Order dated October 3, 2014 . According to Francine Ly, the court coordinator for Judge Tillery's 134th District Courty, the parties went to mediation on October 15 and reached some kind of agreement around 3:00 a.m. in the morning of October 16. The mediator reported to the Court around 5:00 a.m. that the case had been resolved.
These details raise several questions about the disposition of this case. Why would Thomas Bowers sign an Agreed Judgment dismissing his client's case without any compensation? Why would it take an entire day and on into the wee hours of the next morning for two sides to reach an agreement dismissing the case when no money changed hands?
This suggests two possible reasons for the abrupt agreement to dismiss on the eve on an important hearing. First, it is possible that Bowers knew, or should have known, that his client's case was frivolous, and feared that he would be forced to pay Jones's legal fees. Jones's attorneys filed a motion for sanctions against Bowers on the October, 15, the day of the mediation. The motion accuses Weckerly and Bowers of, among other things, filing the lawsuit only to "embarrass and degrade Defendants and to provide fodder for the press." It is entirely possible that Bowers and Weckerly took a look at this motion, listened to the arguments of Jones's attorney in mediation, figured there was a good chance Judge Tillery would grant the motion for sanctions, and decided it was time to cut their losses and avoid having to pay significant attorney's fees. If this was the case, one might assume that Weckerly lied about the sexual assault in her lawsuit. However, it's also possible that they realized their chances of losing on the defendants' statute of limitations defense was too significant to risk moving further.
Second, it's entirely possible that money did exchange hands, despite what Bowers and Jones's attorneys have said. Although all parties vehemently deny that Jones's side paid any money to Weckerly to settle this case, that seems less likely given how long the parties mediated the case the day before. Francine Ly told me the parties had mediated until 3:00 a.m. that morning, and that the mediator reported a resolution of the case to the court at 5:00 a.m.
It's possible that it took all that time for Jones's attorney to convince Bowers and Weckerly that they could lose in court and be forced to pay significant attorney's fees. But what seems more likely to me is that all that time was spent negotiating an amount that would get Weckerly to agree to dismiss the case, waive her right to appeal, and fervently deny that any money exchanged hands. Call me skeptical, but I just don't see how you mediate for that long just to reach an agreement to dismiss. It would seem to me that if Bowers and Weckerly believed their case was so poor that it could be dismissed and sanctions could be granted against them, it wouldn't have taken until 3:00 a.m. for them to sign the Agreed Judgment.
Further, Ms. Ly informed me that she had initially told the press that the parties settled, which is why it was reported as a settlement. She then changed her phrasing to say that the case had been "resolved." I don't think it's a coincidence that the she initially reported that a settlement had taken place. To me, this suggests that Jones paid money to Weckerly to make this lawsuit go away and waive the right to appeal.
Now, this is the part where I should clarify that my opinions are speculation, and we may never know exactly what transpired between Jones and Weckerly. But I like to think that it can at least be called educated speculation, given what we now know about this case and what transpired between the parties during their brief period of litigation.