Tweet

"Why do you love sports so much?"  This question has been aimed my way for as long as I can remember.  For the most part,  I've struggled to put into words an answer that fully enlightens the poor soul who had no idea he/she was about to get hit with 10 minutes of edgy, non-concise retort.  So during Sunday night's watershed moment, while watching former-Missouri and soon-to-be NFL defensive end Michael Sam's almost unfathomably brave announcement of his homosexuality, I decided to ask myself the eternal inquiry once more.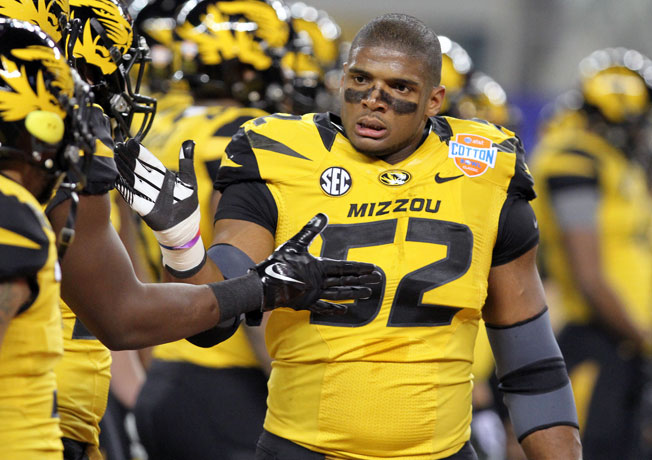 My answer: "Sports represent a microcosm of life.  The spectrum of emotions and lessons it exposes you to is a gift that promotes character building and self-awareness.  And I'm forever thankful for it."  A bit heavy, I know, but it will make sense shortly.  With that as the backdrop, let's take a look at the social and legal implications of Michael Sam's announcement.
There are certain events in sports that are so impactful that they leave a permanent mark on our society.  We remember the dates.  Jackie Robinson gave us April 15, 1947.  Now, Michael Sam has laid the foundation to make September 7, 2014 a day to carve into the annals of history in its own right.  That day will mark the first time an openly gay athlete will partake in a major professional sporting event in our country (i.e., NFL, NBA, MLB, NHL), assuming Sam is drafted this May, or otherwise signed by an NFL team and on the active roster for the league's opening weekend.  A powerful possibility, no doubt; but one that is bound to meet its share of social and legal speed bumps along the way.
No matter how progressive our society fancies itself, the reality is that there are a number of considerations, foreseeable and otherwise, that will meet Michael Sam and other gay athletes with resistance as they set sail through largely unchartered waters.  Today, our society and our laws do not tolerate discrimination on the basis of race or ethnicity.  The level of conscious-shocking offensiveness kicks into overdrive in the event that discrimination  prevents a person from seeking gainful employment and providing for his/her family.  Our collective sense of morality and human rights has not always been in line with where we are today, however, and we didn't get here magically.  Throughout history, the law has been used to effect change in our culture.  The law acts as the key that unlocks society's box of possibilities.  For that reason and more, Michael Sam and other players who wish to actively participate in the NFL as an openly gay man (or woman) are advised to acclimate themselves with relevant state and federal law, as well as the NFL's Collective Bargaining Agreement ("CBA").
U.S. Constitution
The U.S. Constitution protects race/ethnicity as a "protected class," whereby any laws or regulations that have an effect on members of said class are subject to the court-invented "strict scrutiny test."  Laws and regulations burdening members of this protected class will be deemed invalid unless the law is necessary to achieve a compelling government purpose.  Beyond that, the court must find that the discriminatory impact represents the "least restrictive means" of accomplishing the government's goal.
Unlike race and ethnicity, sexual orientation is not a protected class and is currently unworthy of the law's highest protection, and therefore laws and regulations imposing a burden on those who are gay need only pass a "rational basis test."  Under the rational basis test, a law will be upheld if it is rationally related to any legitimate government purpose.
In practice, almost all government action fails to meet the "strict scrutiny test," whereas it almost always passes the "rational basis test."  This sets quite the high bar for a person to challenge discrimination based on their sexual orientation.  As a result, federal courts are left on the sidelines, subordinated by the role of the state legislature in society's progression toward equal rights for people of all sexual orientations.
State Law
The Human Rights Campaign, an organization working to achieve equality for Americans on the basis of sexual orientation, has said that 29 states currently lack protection for private-sector job applicants from sexual-orientation discrimination, including Indiana, where the NFL Combine will be held this month.  The Combine is notorious for its "meat market" atmosphere, where each of the NFL's teams enjoy the rare opportunity to probe into the minds of their prospective employees.  Without state law protection governing the content of teams' interviews with the NCAA's best, will Sam potentially be exposing himself to a free-for-all attack on his proudly held sexual orientation?
NFL Collective Bargaining Agreement
What protections may Sam find in the NFL's CBA?  Article 49 of the CBA speaks favorably on the subject, stating that there shall be, "no discrimination in any form against any player by the NFL, the Management Council, any Club or by the NFLPA because of… sexual orientation…"    Is Sam, a collegiate prospect who's yet to be drafted, much less sign an NFL contract, protected by the CBA's safe-haven language?  Even if he is, how would he go about proving the discrimination?
If Sam were to go undrafted this May, would he have any legal recourse?  Prior to Sunday night's announcement, most media outlets shared the opinion that Sam would be drafted in the 3rd-4th round.  His play on the field in 2013, prompting a co-SEC Defensive Player of the Year Award, was outstanding.  But his physical measurements are not those typically sported by upper-echelon NFL defensive ends.  Last month's "weigh-in" at the Senior Bowl in Mobile, AL revealed that Sam stands at a vertically-challenged 6'15/8".  NFL talent evaluators generally prefer that pass rushers possess the height and corresponding arm length to disrupt a quarterback's passing lanes, and keep blockers at a distance.  If Sam goes undrafted, how will he and his legal team prove that his sexual orientation was the determining factor?  Could he prove that but-for the knowledge that he is gay, he would have been drafted to a degree of legal certainty required of plaintiffs in employment discrimination cases?  The NFL Draft, where beauty is in the eye of the beholder, may provide a systematic safety net for NFL to fall into.       
In the face of much uncertainty, the unfinished story of Michael Sam's journey through the unknown is compelling.  While likely not his primary intention, Sam's platform for greater societal change will be sports… representing a small-scale version of the larger world in which we live, with the rare power to teach and craft its participants with devastating effectiveness.  With the aforementioned caveat that struggles are to be expected on the path toward equality in the NFL, Sam's announcement will provide the institution of sports its truest societal litmus test in history.  Michael Sam has offered sports its most meaningful opportunity to teach us a new lesson.
In the coming days and weeks, The Sports Esquires will dive deeper into the legal analysis surrounding this issue, and reveal the ways in which the various sources of authority mentioned here will tend to nurture or hinder societal character building and self-awareness made possible by Sam's lesson.